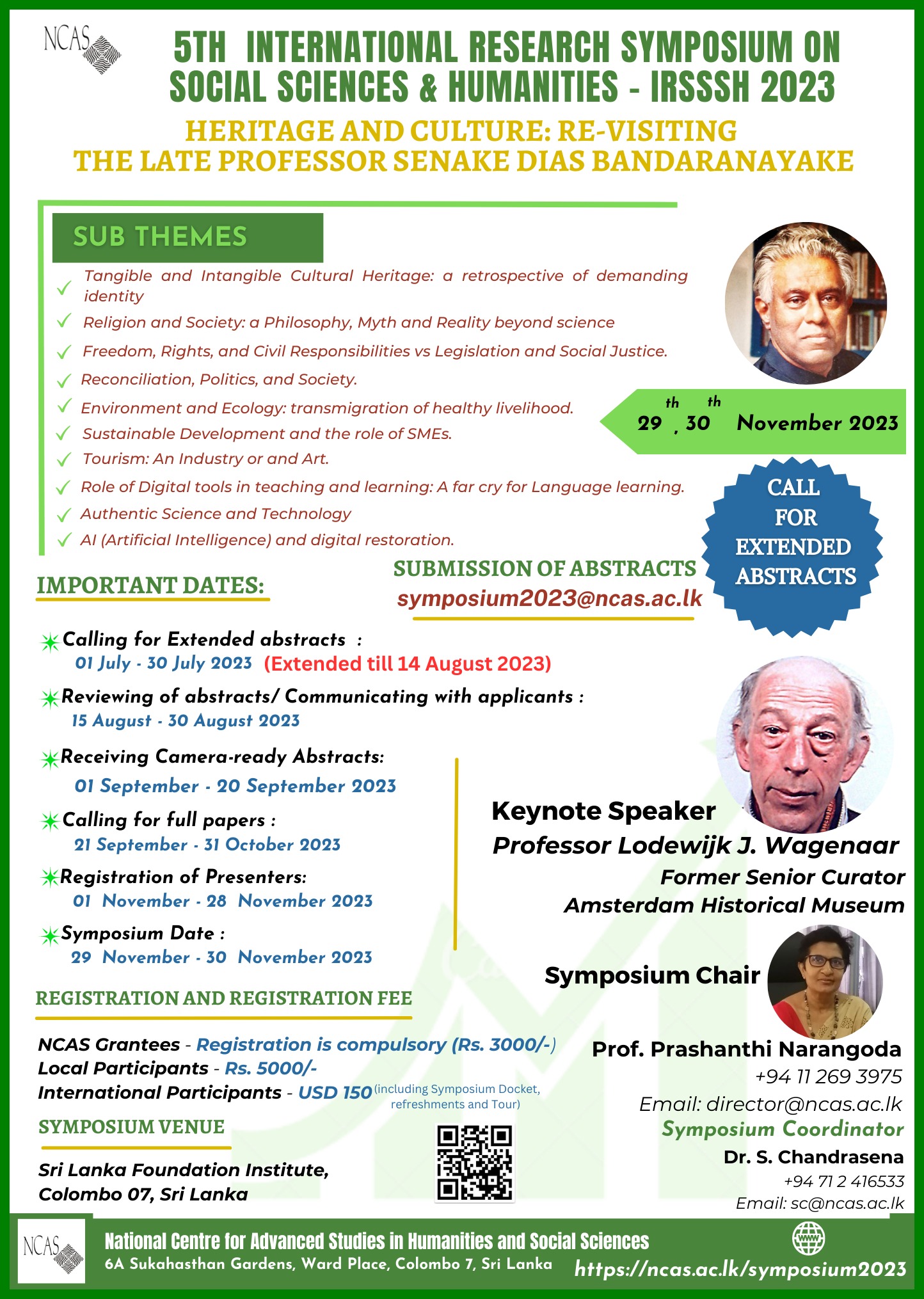 NCAS 5th International Research Symposium 2023
5th International Research Symposium on Humanities and Social Sciences
National Centre for Advanced Studies in Humanities and Social Sciences
29th-30th November 2023
"Heritage and Culture: Re-visiting the late Professor Senake Dias Bandaranayake"
Preamble
Professor Senake Dias Bandaranayake was one of the pioneering scholars in Sri Lanka to make a distinctive contribution to research in Humanities and Social Sciences. Being an Archaeologist, and serving in several capacities, Professor Bandaranayake took a keen interest in promoting multi-disciplinary and inter-disciplinary research, also emphasizing the scientific approach on such studies. While commemorating his outstanding contribution to Humanities and Social Sciences in particular, this year's Conference intends to focus on the following broader theme to revisit and revitalize the gamut of research in general.
Broader Theme
In today's context "Culture and Heritage" is not understood simply as something related to our spiritual world: it is also closely associated with our material world in many ways. In addition to being important determinants of our material world, "heritage and culture" is also vital in seeking a sustainable solution to the present economic crisis. Among diverse roles it can play in this regard, its crucial significance and the lead role in the tourism industry as a foreign exchange earner and a supplier of livelihood for local people cannot be ignored. Hence, this year's symposium focuses on the multi-faceted issues related to "Culture and Heritage" mainly as an attempt to explore its role in upgrading the livelihood of all human beings, and thus the research areas must be focused on how the societies can sustain through reconciliation of Culture and Heritage.
Sub-themes-
---
Tangible and Intangible Cultural Heritage: a retrospective of demanding identity

Religion and Society: a Philosophy, Myth and Reality beyond science

Freedom, Rights, and Civil Responsibilities vs Legislation and Social Justice.

Reconciliation, Politics, and Society.

Environment and Ecology: transmigration of healthy livelihood.

Sustainable Development and the role of SMEs.

Tourism: An Industry or and Art.

Role of Digital tools in teaching and learning: A far cry for Language learning.

Authentic Science and Technology

AI (Artificial Intelligence) and digital restoration.
---
Keynote Speaker

Professor Lodewijk J. Wagenaar,
Former Senior Curator,
Amsterdam Historical Museum
Dr. Lodewijk J. Wagenaar is an eminent academic with a proven track of knowledge on culture and heritage studies in both global and Sri Lankan contexts. Having close association with late Professor Bandaranayake, Dr. Wagenaar is familiar with Sri Lanka, its culture, society and economy. Most of his studies cover the period during the reign of Dutch, focusing on colonialism and its impact on Sri Lanka's culture, heritage, economy, society at length. He has also discussed the urban settlements of the Dutch East India Company (VOC) which he has identified as the isolated pockets within a vast territory of Sinhalese (and in the north: of Tamil) society. The Cultural Dimension of the Dutch East India Company. Settlements in Dutch-Period Ceylon, 1700-1800 – With Special Reference to Galle (2018) is one of his articles related to Sri Lanka's culture and heritage.
---
Important Dates      
---
Proposed Date of Symposium   : 29th-30th November 2023
01st July-  30th July  

(Extended till 14 August )

Calling for Extended abstracts

01st August –  30th August   

Reviewing of abstracts/ Communicating with applicants

01st September–20th September

Receiving Camera ready Abstracts

21st September-31st October              

Calling for full papers

01st Novembe-28th November

Registration of Presenters
---
Registration and Registration fee
---
NCAS Grantees           –  Registration is compulsory (Rs. 3000/-)
Local Participants    –   Rs. 5000/-
International Participants   – USD 100

(including Symposium Docket, refreshments and Tour)
---
Symposium Venue                
---
Sri Lanka Foundation Institute, 100, Independent Square, Colombo 07